A woman saw Picasso drawing on the napkin at the bar. She came to him and asked how much it would be for her to buy the napkin with his drawing.
"$20 000" – he answered.
"What?!!!" – She exclaimed – "I saw you, it took you 5 minutes to draw it!".
"Yes" – Picasso answered calmly – "but it took me my whole life to know how to do it".
THIS STORY IS ONE OF MY FAVORITE STORIES TO SHARE WITH MY CLIENTS WHEN WE WORK ON THE PRICING OF THEIR SERVICES.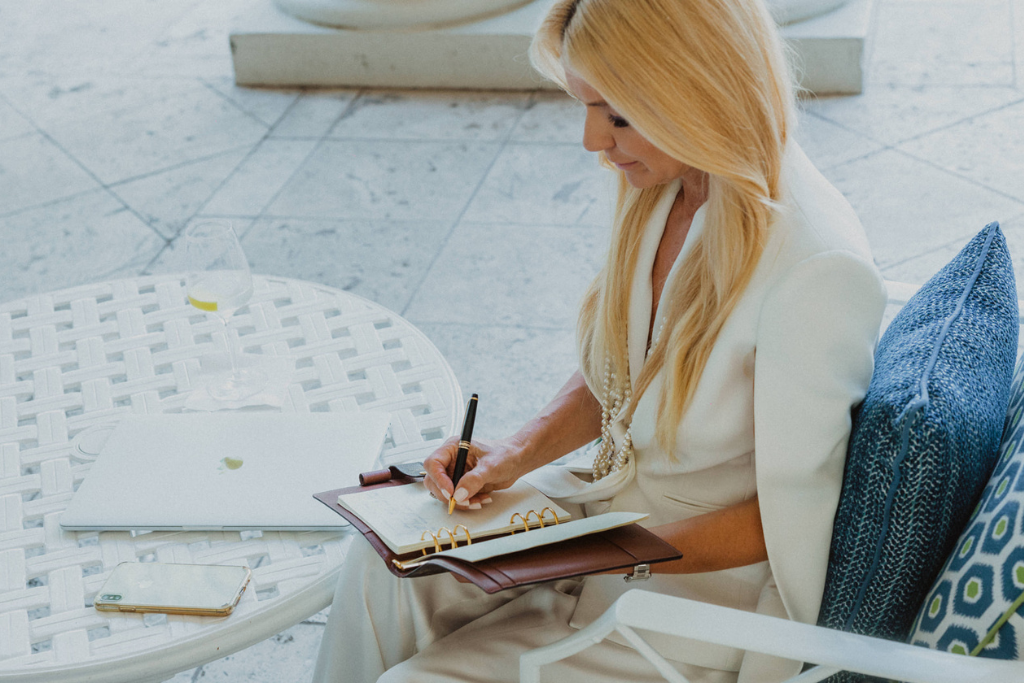 Most women, before we start working together, charge a small fraction of what their services are really worth.
THERE ARE FOUR REASONS WHY BUSINESS OWNERS SET THEIR PRICES LOW:
Fear of losing clients
Low money consciousness
Money beliefs inherited from their parents and society about money
Paying too much attention to the competition
WHAT HAPPENS AS A RESULT?
Many women in business feel resentful, overworked, and underpaid.
WHY? Because the flow of giving and receiving is out of balance.
When you give so much of your talent, passion, and energy and you are not adequately compensated, frustration sets in.
ONE OF THE 4 STRATEGIES I IMPLEMENT WHEN I START WORKING WITH A NEW BUSINESS TO HELP THEM GET WELL COMPENSATED FOR THEIR SERVICES AND WORK WITH HIGH-END CLIENTS ARE:
Work on up-leveling my client's money consciousness
Clarify who the ideal clients are
Create packages that address high-end market customers
Raise the prices
To be successful in a luxury market your goal is to attract ideal clients who recognize, appreciate, and happily pay for your high-end services.
You do it by recognizing the value of what you offer and developing an abundance mindset.
5 REASONS WHY YOU SHOULD CHARGE MORE FOR YOUR SERVICES!
Money is energy and energy is money. There is nothing more life and energy giving to your business growth, creativity, and your personal expansion than being adequately compensated. You need this energy to fuel you daily to take inspired action to grow your business.
Fewer clients at a higher investment level means you have the time and energy to create more exclusive, customized experiences that both you and your clients would really enjoy. When you are not constantly busy you have better access to your creativity.
Charging the true value of your services can transform your business quickly and allow you to get the professional support that you need to grow. It will provide the resources for you to hire an assistant, accountant, social media expert, and a business coach.
Working with a smaller group of ideal clients means you will have more time and balance in your personal and professional life.
When the clients are investing in themselves at a higher level their commitment level increases. When they invest in your services, they take personal responsibility for their results.
HOW TO TAKE YOUR PRICES TO THE NEXT LEVEL
YOUR MONEY MINDSET & MONEY STORY.
Your price transformation starts with transforming your money mindset and your money story. In the past, my money mindset was a big challenge for me.
Over the years I worked with many coaches on changing my money story and my beliefs about money. I consider this work the key to success for most business owners. No amount of marketing, branding and social media strategies will work until you break the glass ceiling of your limiting beliefs about money.
THE NEXT STEP IS PRACTICING AND GETTING COMFORTABLE.
As my coach would say… it is awkward before it is elegant! The more you practice the more comfortable you will become at asking for the true value of your work and the more your clients will be willing to invest in your services. The truth is that your clients can "feel" if you are confident talking about your services and prices… or not; and, they will invest accordingly.
The good news is that any anxiety or fear you feel when talking to your clients about your prices can be alleviated with practice.
I often ask my clients to practice with me on their new pricing as they would talk to their potential clients. They are asked to look me straight in my eyes and say the new price until it feels natural. It helps them go through the initial discomfort and get comfortable in communications with their potential clients.
WHAT IF MONEY WAS NOT AN OBJECT?
Working with my clients on setting adequate pricing for their services I always ask, what would you do for your clients if money was not an object. I love watching what happens next. Their faces light up when they enthusiastically talk about all the ways they would support their clients… the ideas just flow! What we do next is we take these ideas and price them accordingly. The difference this exercise makes is that it takes them out of the affordability mindset into the opportunity mindset. When they talk about their new services with passion and enthusiasm the clients feel it too and are more likely to invest at a higher level.
STAY IN YOUR BUSINESS NOT IN YOUR CLIENTS BUSINESS.
I invite my clients to stop making assumptions. As Byron Katie would wisely say, STAY IN YOUR BUSINESS. It is not your business if the client has the money to invest or not, it is their business. Your business is to serve. By staying in your business you are more relaxed because all you do is talk about your work. If you are talking to the right audience who is looking exactly for what you offer they will find the resources to invest in working with you. If they say no, chances are, they were not your ideal clients … Don't invest your energy into evaluating the situation too much, focus on serving your ideal clients.
IF YOU NEED PERSONALIZED ATTENTION TO TRANSFORM YOUR OLD MONEY STORY AND CREATE THE INCOME AND LIFESTYLE THAT YOU TRULY DESIRE AND DESERVE, LET'S MEET FOR A POWERFUL BUSINESS STRATEGY SESSION.
YOU WILL DISCOVER WHAT IS HOLDING YOU BACK AND WHAT YOU NEED TO DO TO:
INCREASE YOUR REVENUE AND HAVE A RECORD YEAR IN YOUR BUSINESS
START ATTRACTING HIGH-END CLIENTS
CREATE PACKAGES THAT YOUR CLIENTS ARE HAPPY TO INVEST IN
BUILD A POWERFUL BRAND THAT GIVES YOU THE CONFIDENCE TO CHARGE YOUR TRUE WORTH
This session will change your life and your business!
Sending you lots of LOVE,
ABOUT THE AUTHOR
RENIA M. ORR IS AN INTERNATIONAL BUSINESS STRATEGIST, SUCCESS COACH, SPEAKER, AND THE FOUNDER OF LDV ELITE.
SHE IS A SPEAKER FOR FORTUNE 500 COMPANIES, APPEARS ON NBC TV AND OTHER TELEVISION PROGRAMMING, AND IS AN ACCOMPLISHED AUTHOR.