Most of the women in real estate we coach are hard-working and great at what they do. They are successful making good six and even seven-figure incomes, yet they are often working on smaller transactions with clients who are indecisive, drain their energy, and don't respect their time. Some of them have hit a revenue plateau and don't know how to break through to the luxury market. 
What they really want are three things;
make more money by closing more high-end deals
establish themselves as top-producing brokers and work with more high-end clients
have the time and energy to enjoy their success… and travel more!
Right now, to make more money they work more hours, manage more deals, and have less and less freedom and balance in their lives. The feeling of being overwhelmed, doing most of the work themselves, and having no time to take vacation or spend time with their family is their main source of frustration.
The questions that they keep thinking about are: "What does success actually look like?" and "Is growing my business really worth it?"
If you are reading this and feel that this is exactly where you are in your business, we invite you to read on. Discover how our clients achieve their goals by following; THE 4C'S TO ATTRACT HIGH NET WORTH CLIENTS SYSTEM.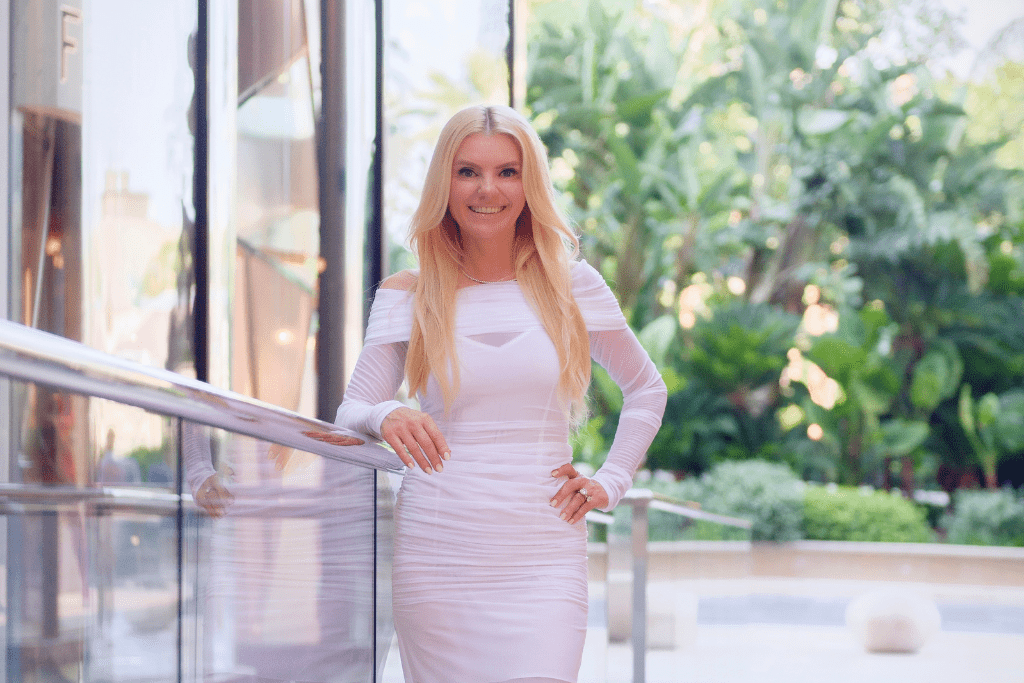 CLARITY: THE FIRST C TO ATTRACT HIGH-NET-WORTH CLIENTS 
In today's reality, high-net-worth clients want more from a real estate broker than they are currently receiving. The top 1% global elites are looking for a unique and authentic experience being served by purpose-driven professionals who understand their lifestyle and deliver results that make their lives easier. 
Most real estate brokers are doing the same things using the same techniques offering generic levels of service. Many don't take the time to work "on their business" to create a clear vision and direction based upon their true goals and desires.
Offering higher levels of service requires having a plan and a clear sense of direction. Having a direction is your business GPS. If you don't know where you are going you are lost before you start.
A real-life example of the power of having clarity is the success story of one of our clients. When we started working together, she was an individual broker who in the first 3 months of working with us went from selling $1 million dollar properties with discounted commissions to getting listings in the $10 – $50 million dollar range at full commission. In the following 3 months she built a team of brokers and her own full-service brokerage. 
The first step to her success was using our clarity and focus process. Our strategic process is much more powerful than the simple goal setting that most coaches offer. We go deep into activating the full vision of achieving goals on an intellectual, practical, intuitive… and manifestational level. This process is different because it helps you connect with all your human needs and your deepest desires.
You start to see the obstacles and patterns that have been holding you back for years and start to understand them. As a result you create a new road map, a blueprint that you use daily to be clear and focused and to execute much more intentionally and effectively.
Intentionality is the favorite word in our practice! We help you to slow down and evaluate things through a new clearer perspective. You start asking yourself; "is this step in full alignment with my new vision, direction and desires?" You will quickly realize that you can accomplish more by taking fewer, more impactful action steps.
This elevated level of clarity helps you turn your thoughts into visions and your visions into reality.
CONFIDENCE: THE SECOND C TO ATTRACT HIGH NET WORTH CLIENTS
The reason many people can't achieve their dreams is because their old limiting beliefs and mindset hold them back. Both of these are deep-rooted and dangerously impact their confidence. 
You put self-imposed limits on what you think is possible and recycle the same patterns. Different faces, different places but you live the same old story feeling stuck and unfulfilled.
Feeling overwhelmed creates disconnect, self-doubt and sometimes even depression. This lack of confidence creates lack of trust in your own abilities and your clients can feel it!
Your self-limiting beliefs lead to self-sabotage.
In order for you to break through and be successful, your limiting beliefs need to be recognized, questioned and transformed. Without your awareness and making a decision to address them, very little can be changed. Your mindset will serve as a self-imposed glass ceiling. 
Mindset challenges are something that we all struggle with no matter how successful we are.
One of our real estate clients was already making seven figures in her business when we started working together. She is a top-performing broker who was closing record numbers of transactions a year. When we met she wanted to learn how to get even more clients and close even more transactions.
As we continued working together, I asked her, "Would you be interested in making twice as much money in half the number of transactions?"
In  the beginning, she had a lot of resistance because her old space felt familiar…   and SAFE.  She could close these deals, as she said, "in her sleep". As we continued working on her mindset she discovered that her way of thinking was her biggest obstacle. 
Seeing how experienced and dedicated she is, I challenged her, "why was it okay for others, including people with less skill and experience, to sell multi-million dollar mansions but not for you?" 
It was all related to how she saw herself and she just wasn't seeing herself as one of the elite brokers.
That has changed. With her new, elevated mindset she is creating elevated results.
She has gained the confidence to work with high-end clients and handle more high-end transactions. Many of her new listings are valued in the eight figures and she has a team that supports her in handling the smaller deals. She discovered that the "high-end" real estate brokers, who she thought were so out of her league, were seeing her as one of them. This new level of doing business also showed her that prospecting and networking can be so much more fun. Most importantly, she is a loving mom and has a wonderful supporting husband and now she can spend more time with them and travel. Her new goal is to spend the whole summer in Europe. 
Reaching a new level in your business requires a new level in your mindset.
Your self-empowering beliefs lead to self-confidence!
CLIENTS: THE THIRD C TO ATTRACT HIGH NET WORTH CLIENTS
Many experienced real estate brokers don't create the income they desire because they try to be "everyone's" broker. When you are marketing to everyone, you are marketing to NO ONE!
The key to working with the top 1% is knowing and understanding them.
Everything becomes much easier and clearer when you take the time to study, research and truly understand your ideal client. Your business, branding, and marketing decisions are born from knowing your clients intimately. The better you know them, the more successful you will become in attracting only the clients you choose to work with.
You would probably not invite people who you don't like to your home. The same goes for your business, you want to work with people who you really like!
"The rich and wealthy" shouldn't be the only factor that defines your ideal client. Other demographic, economic and psychographic factors are also important when crafting your ideal client avatar but what is most important is truly understanding that your client is the center and the hero in this story… it is not you.
Like in the movies the hero needs to win. You need to be the person who helps the hero win. Knowing what wakes your client up in the middle of the night, what they really struggle with and what they want is your key to creating personalized experience they really want.
Most brokers are too busy to be fully present, listen and ask these powerful questions. When you demonstrate that you can help your clients fulfill the three basic human needs; have more power and money, elevate their social status and lifestyle, and feel more fulfilled they start trusting you.
When you get clear on both; who you really want to work with and how to best help them, these clients will start to appear for you! They start to recognize themselves in your marketing messages, they feel; this is for me! She knows exactly what I'm struggling with! Over time you begin to be seen as a go to expert.
When you know your clients intimately you attract them consistently.
CONCIERGE: THE FOURTH C TO ATTRACT HIGH-NET-WORTH CLIENTS  
I'm asked often; What is the secret to getting high net-worth clients if you are in real estate or provide luxury services? It goes without saying that you need to be the best at your craft. 
What I teach all my clients who work on transactions over $5 million is something that you hear very often. It is actually hard to believe in today's media-centered reality… 
Social media is not the tool that works if you want to attract and work with the 1%. It is great for brand positioning and you might want to have your presence there; but, understand that high net worth clients are not following your posts!
HIGH-LEVEL TRANSACTIONS ARE CREATED BY REFERRALS, INTRODUCTIONS AND BUILDING A UNIQUE PERSONAL BRAND. 
That's what we focus on.
Concierge is most of all the art of creating personalized experience. The book "Selling Luxury… shows how well-known global brands constantly develop new strategies to "surprise" their best clients and make them loyal brand ambassadors. From invitations to exclusive Dior and Chanel fashion shows in prestigious locations, luxury road trips in Europe organized by Porsche to exclusive gifts, points and events, major brands are competing for their clients' attention and dollars.
These trends are not well established in the luxury real estate market but these are the same clients looking to be served in the same way.
When the top 1% are buying or selling a home, they are not just buying or selling a home. They are making both a major investment decision and a lifestyle change. They are looking to be advised to make good choices and enjoy a seamless process.
Elite clients are looking for an elite real estate agent, an elegant, sophisticated person who can ensure confidentiality and simplicity. Like most of us, they want to feel special and make sure that their lifestyles and busy schedules are accommodated. They want to see that you have a plan and a proven process and that you are an expert on everything from pricing and market trends to neighborhood demographics and school districts.
A comprehensive services suite provides clients with an efficient transaction and moving experience from start to finish through an extensive network of professionals.
Having a circle of trusted experts in financial and legal, home staging, interior design, and art expertise, and other luxury lifestyle-related services positions you as a true concierge. You become a sought-after resource handling all aspects of the process.
High net worth clients will invest in "Unique and Different." This is where the gap is in today's real estate market. We help our clients become part of this New Breed of real estate professionals using THE 4-C's TO ATTRACT HIGH NET WORTH CLIENTS.
Creating concierge service and working with high-net-worth clients on high-level listings is not for everyone. This a long-term, well thought through process to go from average to exceptional. It requires commitment, creativity and investment. It is designed to help a select group of brokers who are ready to step into the new level of real estate business. 
If you are interested in working with high-net-worth clients, increasing the value of your listings and building a successful concierge real estate business, contact us to schedule your business strategy session.
CLICK THE LINK BELOW TO APPLY:
Love,
Renia
***
The Author:
Renia M. Orr is an international business coach, brand strategist, and speaker. She is an expert in helping women achieve explosive business growth, build highly profitable brands, and create extraordinary lives.