MY MISSION IS TO EMPOWER WOMEN TO BECOME LEADERS IN THEIR INDUSTRY, ACHIEVE FINANCIAL FREEDOM, AND LIVE A LIFE OF TRUE PURPOSE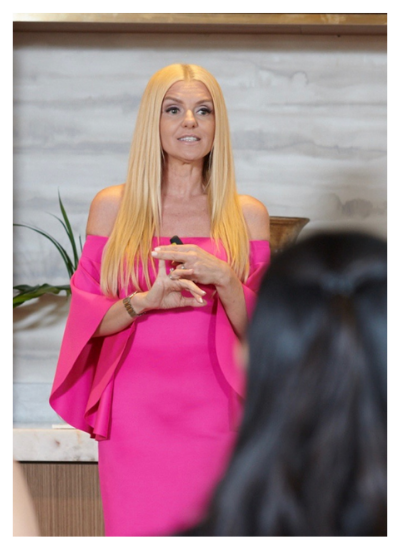 AN INTERNATIONAL BUSINESS STRATEGIST, TRANSFORMATIONAL COACH, AND THE FOUNDER OF LDV ELITE. SHE IS A SPEAKER FOR FORTUNE 500 COMPANIES APPEARING ON NBC TV AND OTHER TELEVISION PROGRAMMING, AND IS A PROLIFIC WRITER.
Renia was born and educated in Warsaw, Poland where she received her undergraduate degree in Economics and her MBA in Management. Featured on NBC, Nightly News with Chuck Scarborough, the Ladies' Room on LTV on LI, and many publications. Renia lives in Palm Beach, Florida with her husband, Sean, and beautiful Havanese, Dolce. Her daughter, Sonia, is a NYU Stern Business School graduate and lives in Miami.
A PERSONAL NOTE FROM RENIA
I'm happy that you are here! It is your time to make more money in your business, live a life of true purpose, and make a big impact on the lives of others.
I'M NOT YOUR TYPICAL COACH!
My life wasn't always the way you see it now. I went from struggling financially and emotionally after moving to the US with my teenage daughter over 17 years ago, leaving behind a difficult marriage, a false sense of financial stability, and my life's work to transforming myself into an owner of an international coaching business, finding and marrying the love of my life, and overcoming many health changes.
I bring all these experiences together to mentor clients, like you, on how to turn their passion into money-making brands, achieve financial freedom, live a life of meaning, and step fully into their power…
LDV ELITE STANDS FOR LA DOLCE VITA, IN ITALIAN, THE SWEET LIFE, AND THIS IS THE ESSENCE OF MY BRAND.
This is not my job, it's my life's purpose to mentor you on this journey to creating and living your version of La Dolce Vita.
I know that there are opportunities out there that are waiting for you!
Love,