Productivity is not an accident that happens in our business. It is always a result of focused planning, implementing intelligent strategies, and your commitment to your brand excellence.
When you are ready to take your business to the next level, there are multiple solutions that can help you optimize your time, delegate, manage your team, and put things on autopilot.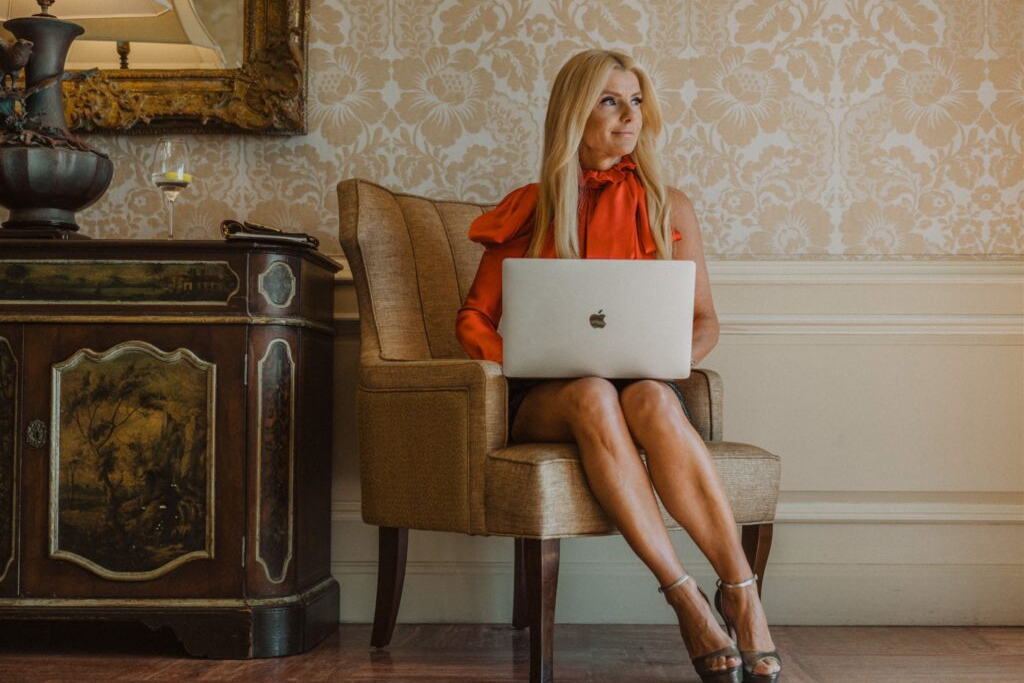 Stephen Hawking said, 'Work gives you meaning, and purpose, and life is empty without it." I also firmly believe that once you master time in your business you can fully enjoy the true pleasures in life, spending time with your family, discovering your creative expression, practicing self-care, and living YOUR version of La Dolce Vita.
Today I'm sharing with you what my team and I use to help us grow our business with ease and manage time efficiently.
1. MANAGE YOUR PROJECTS AND COLLABORATE WITH YOUR TEAM
When it comes to managing a team in your business, the key to maximum results is to focus on being productive instead of busy.
It doesn't matter if you work with your team in an office or virtually; having a simple tool that will help you collaborate, plan, and delegate your projects is a system you must implement. There are many project management software tools available online like Trello, Asana, or Basecamp.
In my business, I use TRELLO. This program organizes our projects into boards, and in one look, we can see what the whole team is working on.
It literally looks like the old fashioned whiteboard covered with sticky notes. Each of these notes contains single tasks with written notes, links, attachments, and documents.
Your team can easily see which tasks are assigned to whom and the timeline they need to be complete. This is truly your productivity powerhouse and a fun way to manage your business efficiently.
2. SCHEDULING AND ORGANIZING MEETINGS AND APPOINTMENTS
I know that for we women in business, our calendar can end up runnning our lives and business if we are not careful. The trick is for us to manage the calendar; NOT, for the calendar to manage us..
Simplicity is a key to productivity, and it boils down to two steps; identify what is essential for you to do as a leader and delegate to your team or eliminate the rest.
In the last 30 years, I owned many businesses, large and small, international and domestic, and having a scheduling tool and a virtual store is the key to building a strong brand. It allows your clients to book time or buy products without the email back and forth, phone calls or text messaging. When I ran a luxurious spa in Southampton, NY, we used a spa system to allow my clients to book their service 24/7, now managing an international coaching business, I use Calendly, free software connected with my website and my calendar that gives my clients access to schedule their strategy sessions at any time. Check out TimeTrader and other online scheduling software and Shopify for your online store.
As Stephen Covey said, "The key is not to prioritize what's on your schedule but to schedule your priorities."
3. IN HOUSE ON BRAND DESIGN
Efficiency is having things done, not being perfect.
Every brand needs beautiful graphics, professional-looking documents, and website banners. I'm all about working with the pros but many simple graphic projects can be easily designed in house. In my business, my team and I use a free and simple software, CANVA. All the LDV Elite social media graphics, website banners, business presentations, client handouts, promotional materials are created in Canva. The great bonus is that this program offers high-resolution photos, beautiful fonts, and templates for any of your marketing needs. Your team can quickly learn how to use it by watching video tutorials.
4. BE GRAMMATICALLY CORRECT
Even the professional writers need an editor to review their copy. A good editor is more than just your grammar police and they can help you make your copy more effective.
In my business, I write new content every day. Without an editor on staff, (not yet!), my articles, social media posts, marketing materials, and client's handouts are all reviewed by my PRO version of GRAMMARLY. This software is like having a writing assistant that checks the document as you are working on it. I use the premium version because it offers additional features, but I used the free option for years very successfully.
5. MANAGE ALL YOUR SOCIAL MEDIA FROM ONE PLATFORM
As a leader, your goal is not to get more done but to have the support and systems you need to have less to do.
We all know that managing multiple social media platforms can be very time demanding. I'm all about simplifying and planning when it comes to social media marketing. There are many types of services that allow you to manage your accounts all in one place. My assistant uses PLANOLY, a free service that allows her to create a calendar, plan the content, schedule posts, track analytics and engagements. Check out other platforms like Buffer or Hootsuite.
6. GET SUPPORT, GET THINGS DONE, AND STOP DIY!
There are three stages to transition from CEO (Chief Everything Officer) to the CEO (Chief Executive Officer) in your business.
Understanding your highest value
Recognizing your position as a leader
Delegating everything else and holding your team accountable
One way successful women treat this is by hiring help.
With the rise of the digital age, VA's (Virtual Assistance), freelance copywriters, and social media experts are more available at lower costs to help you get these tasks done in your business. A Virtual Assistant can be responsible for: social media management, event creating, coordinating calendars, appointments, and emails, preparing reports and personal tasks.
Check out websites like Upwork or Fiverr and find the support that you need in your business. Think about how much more time you would have to focus on higher-level tasks with this help.
Much of the stress that we experience in our business does not come from lack of time or too much to do; it comes from not having the right support, systems, and structures.
As a leader, you are the one who needs to keep an eye on the big picture and focus on your goals… allow yourself to be well supported.
LET ME HELP:
IF YOU NEED PERSONALIZED SUPPORT TO TAKE YOUR BUSINESS TO THE NEXT LEVEL, ENJOY FINANCIAL FREEDOM, AND LIVE A LIFE OF TRUE PURPOSE CONNECT WITH ME.
SEND ME AN EMAIL AT RENIA@LDVELITE.COM AND BOOK YOUR FREE CONSULTATION TODAY.
Let's create a plan to help you build your dream business from a space of true alignment and using world-class strategies.
Sending you lots of LOVE,
ABOUT THE AUTHOR
RENIA M. ORR IS AN INTERNATIONAL BUSINESS STRATEGIST, SUCCESS COACH, SPEAKER, AND THE FOUNDER OF LDV ELITE.
SHE IS A SPEAKER FOR FORTUNE 500 COMPANIES, APPEARS ON NBC TV AND OTHER TELEVISION PROGRAMMING, AND IS AN ACCOMPLISHED AUTHOR.